SUMMER ON A PLATE ORANGE SALAD (GF, VEGAN, PALEO, WHOLE 30)
January 2018 | The Honest Spoon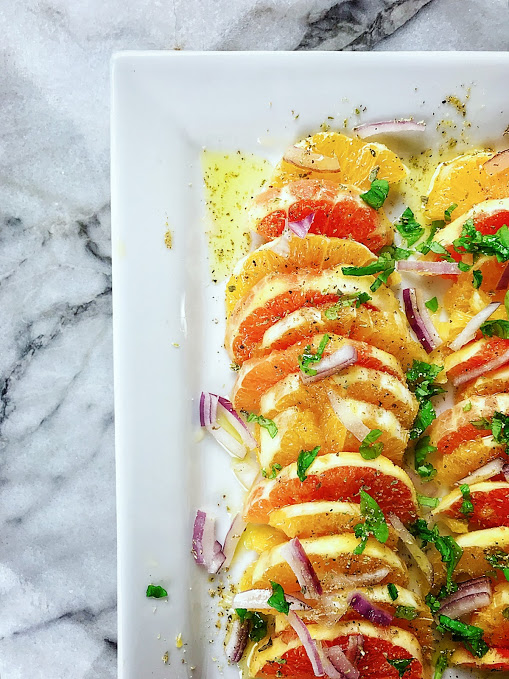 It's January, Here in the Pacific Northwest that means it's pretty much cold and rainy. If it's not raining, it's most likely overcast. When we get the rare rays of the sun it is GLORIOUS. Oddly though, I don't mind this weather. I embrace every season as they come. One of the highlights in January is all the CITRUS.
I recently subscribed to Imperfect Produce seeing as they started delivering to my area. I LOVE IT!!! Every week I customize my box based on what I need, It's affordable and I feel good about diverting some of that unnecessary waste by buying perfectly FINE fruits and veggies that may have otherwise hit a landfill. Part of last week's order was oranges. You see that sad scarred orange in the picture below? That's imperfect produce. CRAZINESS! For the record, they aren't paying me to sell you on it.
Anyway, during this time of year, we get an influx of citrus. Over the weekend I decided to make "summer on a plate". AKA, orange salad. It's fast. It's easy. It's a refreshing addition to your meals at lunch or dinner. All you need is oranges, red onion or shallot, fresh basil, dried oregano, and extra virgin olive oil. If you have an avocado or pomegranate seeds you can add them too! Despite its perfect balance of sweet and savory, the colors and flavors really pop. It truly tastes like summer on a plate. Love it!
SUMMER ON A PLATE ORANGE SALAD [GF, VEGAN, PALEO, WHOLE 30]
| serves two |
INGREDIENTS:
2 oranges (I used 1 navel orange and 1 cara cara orange)
1 small wedge of finely slice red onion or shallot. About 1 tablespoon
1/4 teaspoon salt
1/4 teaspoon ground pepper
1 tablespoon extra virgin olive oil
2-4 basil leaves, finely chopped
1/4- 1/2 teaspoon or dried oregano
METHOD:
1. Peel rind off the oranges. Try to remove as much or the pith as possible. Slice into wedges
2. Layer orange on a plate. Layer red onion or shallot on top.
3. Sprinkle with salt, pepper, basil, and oregano. Top with olive oil
4. Let sit about 10-15 minutes and enjoy!