EASY BRIGHT & SAVORY MARINADE [VEGAN, GLUTEN FREE, PALEO, WHOLE 30]
February 2018 | The Honest Spoon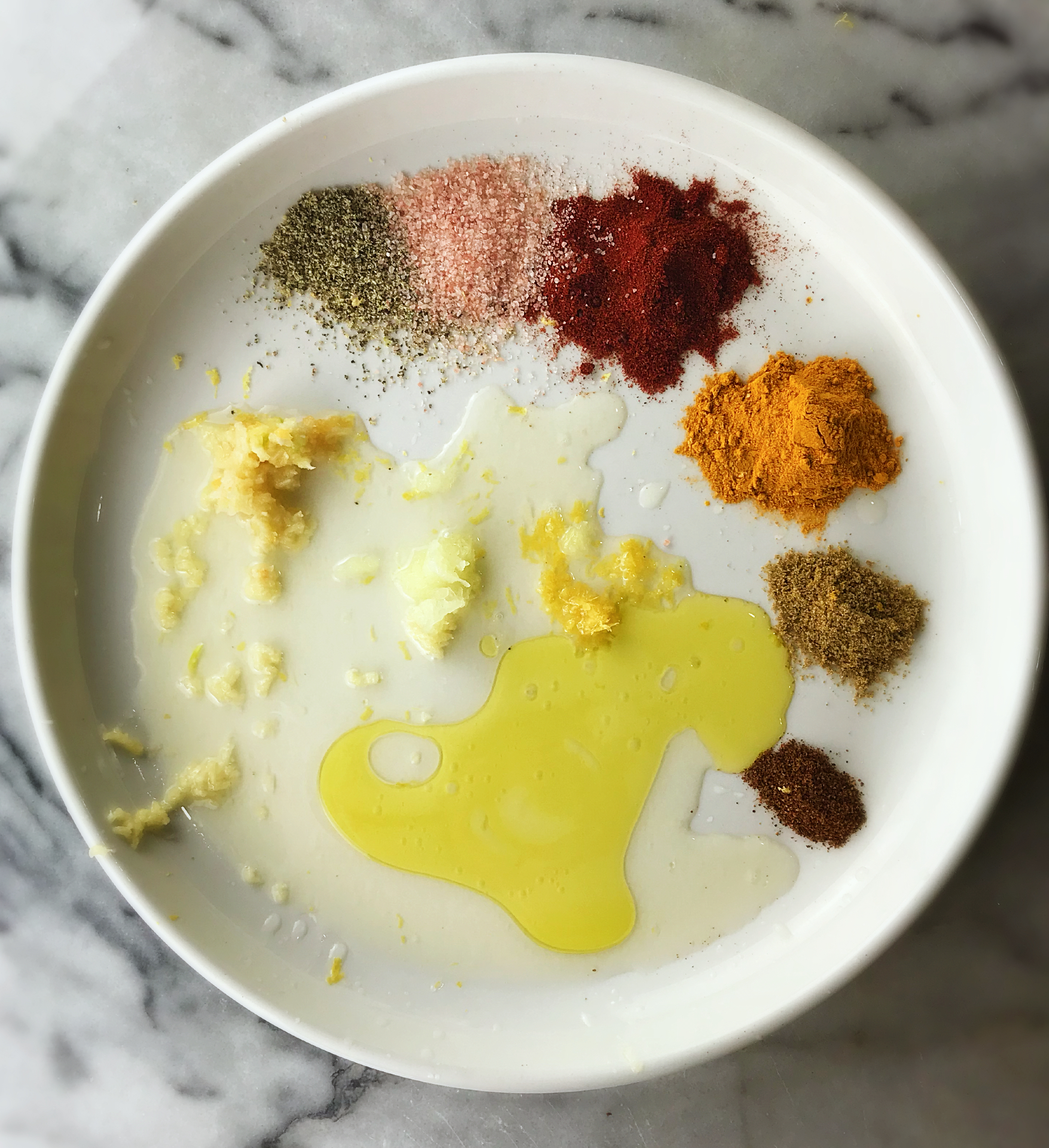 Living in the Pacific Northwest, we have the great privilege to experience all four seasons. But it sees that every year around this time I crave sunshine and backyard barbeques something fierce!! So, this month I developed my little version of summer in the form of a bright & savory marinade. This one has moved to the top of my favorites list quickly! I use it for chicken breast, chicken or sirloin kabobs, and I even brushed it on zucchini and eggplant before outing them on the grill. So much flavor! The warmth of the cumin, turmeric, and paprika are pleasantly brighten up with the lemon juice and zest. It's kind of magical!
When I find something I like, like this marinade, I start to prep and create some efficiencies to my liking. In this case, I went ahead and prepped the dry ingredients and stored them in a small jelly jar. This way, I have it easily in hand to quickly mix with the lemon, garlic, and oil. I also went ahead a prepped about 4 servings of thinly slice chicken breast and kabobs. I packed these in zipper top freezer bags and stored them flat in the freezer. This way, the meat will marinade while it freezes, and continue marinate while it defrosts. Its a win win situation for me and dinner is half way prepped for a quick mid week meal. Woo hoo! If you don't have time to prep, I suggest marinating for a minimum of 30 minutes, but it will be best if you let it marinate overnight.
EASY BRIGHT & SAVORY MARINADE [VEGAN, GLUTEN FREE, PALEO, WHOLE 30]
| Makes 1/4 Cup- enough for 4-6 Chicken Breasts |
INGREDIENTS:
1 teaspoon paprika

1 teaspoon tumeric

1/2 teaspoon cumin

1/2 teaspoon salt

1/2 teaspoon pepper

1/4 teaspoon chili powder

3 garlic cloves, minced

1/4 yellow onion, grated

Zest and Juice of one lemon

2 tablespoons extra virgin olive oil
METHOD:
1. Place all your ingredients in a flat dish. Mix well with a fork or very small whisk
2. Place meat or vegetables on plate and spread marinade evenly on both sides.
3. For meats, marinade at least 30 minutes or ideally overnight.
4. For vegetables, brush on top and back just before grilling.