LIFE CHANGING BUTTERMILK WAFFLES [EASY]!
January 2018|The Honest Spoon
I know. Another Waffle recipe? I am telling you once you've tried these you can't go back to anything else!
Perfectly crisp & toasted on the outside. Tender and Fluffy on the inside. These are a favorite in our house and the kids ask me to make them practically every weekend. You can serve them with a simple maple syrup or with seasonal berries. Last week I didn't have fresh berries at home (...gasp!...) and I put some chunky blueberry jam on the table and the kids didn't even blink. I've had some friends even spread a little Nutella on these babies!!
This recipe makes about 8 Belgian waffles in our waffle maker. We've had this waffle maker since we've been married (sixteen years!) and I love the little chime that lets you know when the waffles are done. I make the first half on our preferred level on toastiness, Then, once I've gauged just how hungry my boys are, I have an idea if I'll have any left over. If I think there will be leftovers, I turn down the dial a bit and cook the waffles so they are a little under toasted. I can stack these up, with a piece of parchment in between, and freeze them in a zip-top freezer bag, This way, the kids can have their favorite waffles during the week too! They toast up quickly,
I don't like a big mess while I'm in the kitchen. I'm sure you can relate. For this recipe, I put all my dry ingredients in a bowl and whisk them together. Separately, in my big (1 quart/ 4 Cup) Measuring Cup, I first melt the butter, then add the buttermilk and eggs. I whisk up the wet ingredients right in the measuring cup. Then, pour the wet ingredients right over the dry. Mix that together. Use your whisk to get rid of any clumps.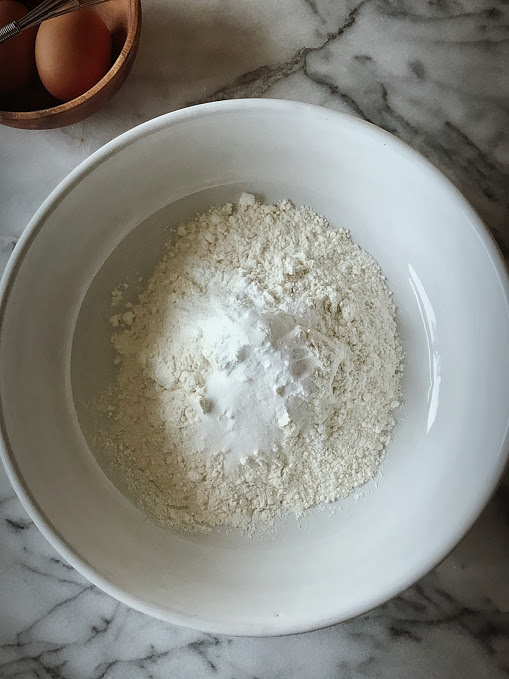 LIFE CHANGING BUTTERMILK WAFFLES [EASY]
| makes 8 Belgian waffles |
DRY INGREDIENTS:
1 1/2 Cups Flour
1 1/2 teaspoons baking powder
1/2 teaspoon baking soda
1/2 teaspoon salt
WET INGREDIENTS:
1 1/2 Cups Buttermilk
6 tablespoons melted butter
2 eggs
METHOD:
1. Preheat your waffle maker according to manufacturer's instructions. Set the toasting level to your liking,
2. Add the dry ingredients to a bowl. Whisk together.
3. In a separate bowl or larger capacity mixing cup, add the wet ingredients. Whisk together well.
4. Add the wet ingredients to the dry. Whisk together. Use the whisk to reduce any large clumps.
5. If needed, spray the hot irons of your waffle maker lightly with a nonstick cooking spray.
6. Now, spread approximately 1 to 1 1/2 ladles of waffle batter across the top two waffle squares. Repeat the same for the bottom two. *Tip: keep the batter about 1/2 inch away from the edge of the waffle irons. If you get too close to the edge you will end up with waffle batter coming out of the sides (read: horrible clean up job)!
7. Cook until toasted. Serve immediately or keep warm in an oven that has been preheated to 185 degrees. Note: waffles should only temporarily be stored in the oven to keep warm, Max 30 minutes, Otherwise, they will be come too dry.
8. Repeat steps 6 & 7 until you are out of batter. Enjoy!!
**This recipe yields about 8 Belgian waffles when using the Villaware Waffle Maker.